Residential Cruising lines typically advertise a specific date that they will launch. Is it possible that the promised date slips, even at the last minute?
Not only yes, but it's unfortunately likely.

And it has happened to us.
"Likely"?!?
Why do I say "likely"? Because every ship that has promised to launch within the past several years has missed their advertised date. Every … single … one.
Example: In early 2019, Storylines said it would launch "mid-next year" — mid-2020. After repeated delays they're now saying sometime in 2025. No, wait! 2026! Really. For sure.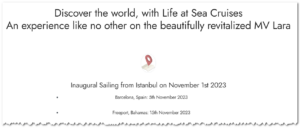 Example: As of this writing on 12 November 2023, Life At Sea's site still says it's sailing November 1, 2023, even though on October 20 — less than two weeks before that promised date — they announced that they didn't have a ship yet, so they were delaying …to November 11. It's only going to take them 10 extra days to buy, retrofit, staff, and launch a ship? Hardly seems likely! Especially now.
[15 Nov. Update: Reports indicate that Life At Sea did slip again, to 30 Nov. 2023, but as of today, the front page of their web site still looks like the screenshot above.]
[24 Nov. Update: Not surprisingly, Life At Sea has canceled completely. They have removed the sailing dates from their home page, but it is still in selling mode, urging people to sign up. It takes a little time to turn a ship around when at full speed….]
And Example: The December 1, 2023 departure of Victoria Cruises' Majestic (their third promised departure date after two previous slips) was delayed …until July 26, 2024 — almost eight months!
We were signed up for that departure, with a 5-figure deposit paid against a signed contract. We were given two months' notice of the delay (October 1), but by that time we had sold our house and moved out, with a 2-month road trip set to end at the dock in Ft. Lauderdale, Fla., to sail on December 1.
So much for that plan. We canceled, and are waiting for our deposit to be refunded.
We're far from the only ones who depended on their promises, or sold our homes and were ready to board. We joke to our friends that we're new homeless and "living in our car," but we're OK: we have plenty of places to stay. Yet there has been silence from Victoria Cruises: there was no explanation, no reasoning, no reassurance …and no apology.
Still a New Travel Sector
We're not soured on the idea of Residential Cruising: we have put in a deposit for another line, but even they are not sailing for several months. At least we hope they'll meet their own deadline! We were able to talk to the CEO to tell him how important it is for the viability of Residential Cruising — people interested in this travel sector need to have trust that someone will do what they say.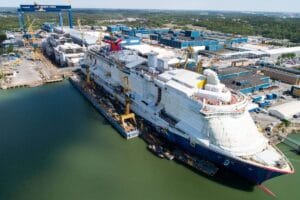 Right now, it at least looks like this travel sector is "not ready for prime time."
But let's be generous: the sector is definitely in its infancy. Of course there are going to be delays as companies figure out the huge logistical challenges. They can't just launch a half-billion-dollar ship and hope people will buy in. They have to be sure of some level of profit, or they go bankrupt under the weight of their startup costs.
"Even when accounting for inflation, most new cruise ships built in the early 1990s would cost only around $300 million today," the Royal Caribbean Blog wrote earlier this year. "As cruise ships became even bigger in the 2000s, the average cost exceeded $500 million." So surely we can expect even a small used ship to cost at least several tens of millions, and then comes refurbishing to the new style of use.
Plenty of Room for Multiple Companies
It's in part because vacation cruise ships are getting bigger that Residential Cruising is finding a niche. The smaller ships are being mothballed as vacation cruise lines go for bigger and bigger ships. Residential Cruisers are looking for a stable community where they can find friends and get to know their neighbors, while they "tour the world, and go home every night." Buying perfectly good used (and smaller) ships keeps costs down so ordinary — admittedly middle-class — people can afford this exciting option.
It's perfect for early retirees with a million or two in the bank: they can cruise on such ships indefinitely. Add in digital nomads like us, who can continue to make a living when there's good Internet included, and there is a potential customer base in the dozens to hundreds of millions. The opportunity is huge, so no wonder multiple companies are jumping in for a piece of that market, which is absolutely still in its infancy.
So while it's disappointing that the only Residential Cruising ship that has sailed so far, The World, is for multi-millionaires only (they won't even talk to someone who isn't a deca-millionaire), we absolutely want to see more companies jump in and prove the viability of this market. We want them all to succeed, to not only prove the viability of the market and to satisfy the ever-growing number of people who want this option, but for us to get going on our own voyage!
In the meantime, as we wait, we just rented a short-term apartment on land — furnished, since we don't own much anymore, having "sold everything" when we moved.
Last Updated 15 November 2023
About the Author
Latest Posts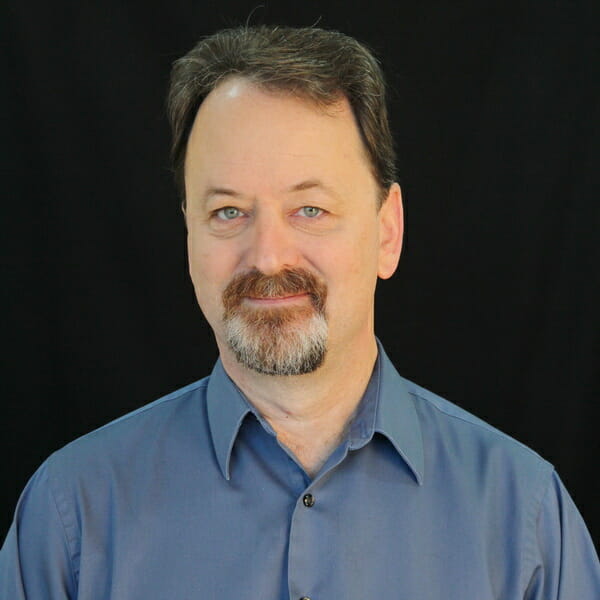 Randy is the co-founder of Residential Cruising, and is best known as the founder of the oldest entertainment feature on the Internet, This is True. He and his wife, Kit, are actively working toward moving to a full-time Residential Cruising ship, where they intend to be "Digital Nomads" — continuing their work while aboard the ship.