Let's make sure we're starting from the same page: this one!

What Residential Cruising
Isn't
While you could just call up a travel agent and say you want to book a cruise and you want to stay there for the next five years, that's not really what Residential Cruising means. First of all, that's awfully expensive (though you would get discounts as you went along). Also, to have the entire population of the ship change over every two weeks or so (with thousands of new opportunities to be exposed to new viruses), that's not really what we're talking about here on Residential Cruising either.
What Residential Cruising
Is
First, a Residential Cruising ship generally has been set aside for this purpose. They don't plan a set itinerary for two weeks and then repeat dozens of times, but probably have a two- or three-year path that they might take to get them around the world, or at least a large part of it. And then start again, but probably on a somewhat or entirely different path.
So first of all, it's a much more leisurely pace, not racing from port to port to stuff in as many landing opportunities as possible because you need to rush home to your regular life.
Also, with Residential Cruising the stops along the way are probably up to a vote of the passengers: how long should they take to go up the coast of Italy (for example), and which of many ports should you stop at, and for how long? All within reason, of course: the stop has to be able to accommodate the ship and the passengers, so you'll not be overwhelming a tiny, non-tourist town.
And since the entire population of the ship doesn't turn over every couple of weeks, you'll likely get to know your neighbors, or maybe even all of your shipmates over time. They certainly won't all be from your home town, your home region, or even your home country.
Residential Cruising allows you to travel around and see a lot of countries, cultures, and scenery — and "go home" at the end of the day, every day! You may wake up in the morning in a new place you've never been before.
Choices, Choices!
There are multiple Residential Cruise Lines — ships that focus on long-term passengers. It's not just The World (launched 2002) and Storylines (launching 2024), but also:
Villa Vie Residences, sailing May 15, 2024.
Dark Island, with 101 residential suites, launching in 2025.
Njord, with 107 residences, launching in 2025.
Life At Sea, sailing

November 1, 2023

Delayed less than two weeks before departure

canceled completely.
Victoria Cruises, with 675 staterooms, launching

February

,

May

,

December, 2023

July 26, 2024.
Storylines, with 547 cabins, launch recently delayed to 2026.
And several others, still showing "TBD" launch dates.
Residential Cruise Lines are responding to the increasing demand for ocean-going residences. A growing number of people are ready to live full time on a cruise ship. But it's definitely still early in the evolution of this industry, as evidenced above by the delays in launching most ships; more on that here.
Option 1: Buy In
This is for truly serious folks who are absolutely sure they want to do this for years: you buy in to a ship that could be specifically built for Residential Cruising. Expect at least a million dollars U.S. for a cabin, possibly many times that if you need something large (such as with two or three bedrooms and baths).
In a way, it's like buying a condo: you "own" your cabin, and then will have to pay "HOA dues" which, in this case, include things like food, utilities, port fees, use of common areas (lounges, maybe office cubicles, recreation facilities, Internet access, spa area, etc.)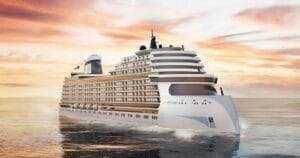 Because you've bought in, the monthly fees will be less with this option, but still likely several thousand dollars per month.
When you decide to move away — to go back to land, to medical care, to another ship, whatever! — you will likely be able to sell your cabin to someone else. Will there be a market? Hard to say for sure. It's possible you could sell it for more than you paid, or it's possible you won't be able to find anyone to buy it, and receive nothing. It's a risk, but if you use it for long enough and can sell, this could be the overall lower-cost option.
Example Residential Cruise Lines offering condo-like purchases include The World and StoryLines.
Option 2: Leasing
As with an apartment, where you don't buy a chunk of the building like with a condo, you lease your space. Lease costs include all of the monthly fees of Option 1 above, but you will also need to pay rental for the cabin space itself: you don't "own" it. The monthly cost of course depends on the amount of space in your cabin, whether you have a balcony or not, and very importantly how long you agree to stay — a one-year lease will have a much lower monthly cost than a one-month lease.
If you stay for many years, this could be the more expensive option, but it also has less financial risk.
Example Residential Cruise Line include ships repurposed from regular short-term cruise ships that have been refitted as Residential Cruising ships, including refurbished ships from "regular" cruise lines.
Or Hybrid
Ships can also offer both buy-in and leasing options. The buy-in will certainly result in lower per-month fees, and is probably a better option if you plan to cruise year-round for a long time. Example hybrid line: Villa Vie Residences.
We will be exploring all of these topics and more in upcoming articles. To get notified of new posts, click here to subscribe to our mailing list and get notifications.
Making Your Choices
Your high-level decision process will look something like this:
You want to do this!
How long do you want to do it?
Sell your home, or rent it out?

If selling, you have a lot of things to get rid of or put into storage! Belongings, cars, personal papers….

Will you buy a cabin, or lease? (Highly depends on your level of wealth, how long you plan to do it, and more.)
What ship has your desired lifestyle? (Do they have the size/cost of cabin you want available?)
Line up cashflow to support your trip for the duration.
Ensure your passport is up to date!
Carefully review all paperwork; you may want help from an attorney.
Make your move.
Supporting Your Decisionmaking
This site will continue to expand with various things to think about, ideas, opportunities, reviews, and much more.
This page will be expanded over time as we think of things to add, and/or you ask questions.
Next Steps
Start with the first article, and take your time navigating through each one in turn to get your bearings. Also, it's a good idea to get on our mailing list to be notified when new articles are posted. It's free, we never send advertising to our list, and we never sell your information to anyone. Click here for a subscribe form.
Last Updated 24 November 2023