Join us on our journey going from a regular land life to Residential Cruising on a ship specifically outfitted for Residential Cruising (as opposed to a regular cruise ship offering trips of a week or three).

In The Basics, we talked about the decision process if you want to try this lifestyle. Here's where we are in the process as of now:
You want to do this! [Yep]
How long do you want to do it? [Several years]
Sell your home, or rent it out? [Sell]

If selling, you have a lot of things to get rid of or put into storage! Belongings, cars, personal papers…. [In process: We're selling "everything"]

Will you buy a cabin, or lease? (Highly depends on your level of wealth, how long you plan to do it, and more.) [Lease]
What ship has your desired lifestyle? (Do they have the size/cost of cabin you want available?) [Researching]
Line up cashflow to support your trip for the duration. [In progress]
Ensure your passport is up to date! [Yep]
Carefully review all paperwork; you may want help from an attorney. [Pending]
Make your move. [Pending]
Making the Decision
We first started thinking of full-time cruise ship living in 2015, when we read about GrandMama Lee. We already knew about The World, the "condo ship" that has been in operation since 2002. We knew two things: we would likely never be able to afford to live on The World, and we knew in 2015 the time wasn't right (and then came Covid, so we were sure the time wasn't right!)
Since 2015, more and more options have popped up. Seeing publicity for Storylines brought it into the forefront again, and we decided the time was right. We were aware that the timespan from decision to boarding would take at least several months: we had a lot of stuff to get rid of, and we had to sell our home in a rural area where that can take many months. That's OK: we're patient and used to long-term planning — 20 years ago, it took many months to move to that rural area when we decided the time was right, and again the culmination of a multi-year plan.
We have been "decluttering" for months, selling stuff we don't use anymore, and giving plenty of carloads of useful items to a local charity with a thrift store. Our house was cleaned out enough to go on the market in June.
Retirement?
Naturally, many living in Residential Cruising are retired, but not everyone. "Digital Nomads" — people whose jobs allow them to work remotely as long as they have an Internet connection — are a growing demographic here, especially since the pandemic. We'll be covering that aspect more in future articles, but "Digital Nomad" definitely describes our approach.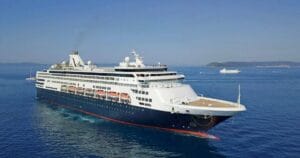 Randy is "retiring" from some side jobs he has been doing, such as being a captain in our rural county's EMS system, watching over the county's police/fire/ambulance dispatch systems, and serving on several boards. He will continue his main profession: writing and publishing This is True, his 30-year-old feature column.
Kit has already retired from her side jobs — an EMS medic with Randy and the county's Deputy Coroner — and will continue being a longevity/transition coach. It's a handy coaching specialty considering the big transition we're making. Kit recently returned from Italy, where she walked the 150 miles from Rome to Assisi through a rural countryside, and a side trip to Florence. Alone.
Friends' Reactions
We didn't tell family or friends our plans until after we put things in motion (which is to say, not immediately after the decision). Reactions to hearing the news has ranged from "Awesome!" and "You're a badass!" to "Is that really a thing?!" and "Have you ever been on a cruise before?" (Um, yeah: from small ships to giants, in the U.S., China, the Virgin Islands, and western/eastern Europe, and in oceans and rivers, starting in 1977.) We don't recall anyone asking us, "Have you lived in a rural area before?" when we headed to our current home 20 years ago.
Others have quickly jumped to, "Can we come visit?!" — most people are quickly interested in the concept once they think about it a little. (The answer to that question is yes, depending — which will be covered in future articles.
What We're Doing
Here
As far as this web site, we're sharing our journey since most information is from sites that have something to sell (at a great profit at that). Since we're writers, we wanted to provide real information about Residential Cruising to people who are following in our footsteps. Click here to subscribe to our mailing list and get notifications of new articles as they're posted.
More to Come…
Last Updated 21 July 2023